Dr. Sharon Lumley, DC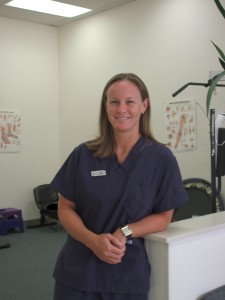 Bachelor of Science (BSc) – Human Biology, Doctor of Chiropractic (DC) – Honours
Born and raised in Windsor, ON
University of Windsor – Honours Biology program 1993-1996
Logan College of Chiropractic – University Program. Chesterfield, MO USA 1996-1999. Bachelor of Science – Human Biology 1997. Graduated as a Doctor of Chiropractic, Cum Laude, December 1999. While at Logan, Dr. Lumley was a teaching assistant in Physical Diagnosis & Diversified Chiropractic Technique, tutored Gross Anatomy and was an elected member of The Professional Committee.
Upon returning to Windsor, Dr. Lumley worked with a group of well respected Chiropractors and Physiotherapists before establishing her own clinic in 2001.
Coming from an athletic background, Dr. Lumley was originally interested in the field due to her own personal history of sports related injuries and subsequent rehabilitation periods. With that background she developed a philosophy of team health care heavily based in restoration of function through biomechanical, orthopedic, and rehabilitative principals. Dr. Lumley continues her involvement in sports by working with many local athletes and teams.
A Doctor of Chiropractic is trained to assess, diagnose, treat and/or refer musculoskeletal injuries. Dr. Lumley employs many treatment options and designs individual treatment plans so that between doctor recommendations and patient consent, a mutually agreed upon plan of care is designed.
With years of personal and professional experience, Dr. Lumley has chosen to care for many types of injuries in her practice – not just spinal. And you can trust that at Lumley Chiropractic & Rehabilitation Centre we value and communicate as needed with all members of your health care team – MDs, surgeons, physiotherapists etc. If we can't provide the care you need, we'll guide you to where you should be.