Ashley Mullin, RMT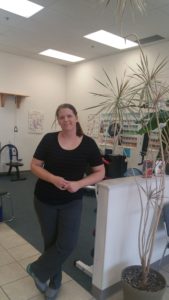 Registered Massage Therapist (RMT)
Born in New Brunswick, raised in Leamington, ON
Canadian College of Health, Science and Technology, Windsor, ON – Massage Therapy program 2014-2016. Graduated January 2016. Officially registered as a Massage Therapist by the College of Massage Therapists of Ontario in August 2016.
Ashley is the newest member of our team, joining us December 2016. And she's very much looking forward to the diversity and complexity of clients in the clinical atmosphere!
Direct billing as allowed for most insurance plans. In situations where direct billing is not possible, a receipt for submission purposes will be provided.
Please note: many insurance plans require a prescription for Massage Therapy benefits from a Medical Doctor (MD). Contact your specific provider for details.
Now offering: Indie Head Massage 45min $65.00
Clinic Hours:
Tuesday 2-9, Friday 9-1, One Saturday per month 9-4